Belonging to an association has many benifits, the major one in our opinion is education. We all learn from each other and doing so is better than just reading a book or magazine, we can learn from others problems and mistakes for example. We can also teach new members the proper way of doing business and working with clients. In addition, associations provide backup to businesses, some (such as the ADJA) even offering emergency equipment replacement.
Will the DJ you hire belong to any associations? Imagine if you hire a DJ and a week before the event, someone breaks into his business and steals his equipment and his music! What will happen on YOUR wedding day? Will he be calling you and saying he's sorry but he cannot do your event because he has nothing to use, no music to play and no way possible to repurchase the thousands of dollars worth of equipment AND thousands of songs?
Not if he belongs to the American Disc Jockey Assoc. (ADJA) like we do! Their Emergency Equipment Replacement system is available for just this sort of problem and it will be shipped out to arrive the NEXT DAY. And it comes complete with a music library, ready to use, as well!
Belonging to service related associations shows that a business is both REAL as well as PROFESSIONAL. You should think twice about hiring someone who does not belong to several. After all, you wouldn't want to hire a lawyer or go to a doctor who didn't belong to their respective professional organizations, would you? Then keep that in mind when hiring your other professionals as well.
And remember, just because someone SAYS they belong to an association doesn't make it true. Check to make sure! The ADJA (one of the largest pro dj associations) is only a phone call or website visit away!
Lastly, we helped to start up the Pacific Coast Disc Jockey Association (PCDJA) and Debbie is the current President of that association.
Here are a list of some of the associations Which We Belong To:

Current President, past Vice President and Founding Member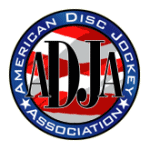 American Disc Jockey Assoc. Member and Chapter Leader

National Association of Mobile Entertainers (N.A.M.E)
Association of Bridal Consultants (ABC)
BAOA Bridal Assoc. of America

Bride & Grooms Workshop - Owners and Presentors
Wedding Wire - Top Rated
Certified Wedding Professionals Assoc.

DeeJayz.com - Part of the APC Entertainment Network

The Online Disc Jockeys Assoc.
Southern California Entertainment Association (SCEA)
Online Wedding Planners of Ventura County